3PCS CREE Xm-L2 U2 LED Search Light 5400 Lumens Search Flashlight
parameters1:
parameters2:
parameters3:

D1O4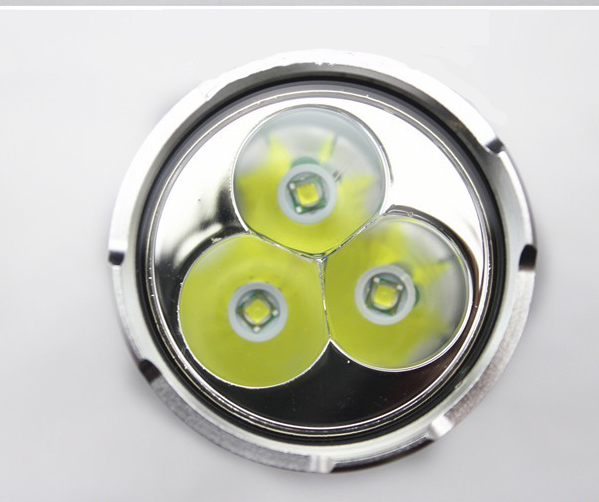 The very strong LED flashlight that can be much brighter than a car lamp!
Installed with 3pcs XM-U2 LEDs , offering 5,400 LUMENS brightness!
Super super long range focusing ,ideal for hunting and searching , night cycling, patroling and hiking.
CNC Treated 6061-T6 Aluminium cover, hard oxidation
3 Lighting modes: High- - Low-- Strobe
First press: full brightness
Second press : Economic brightness
Third mode : Strobe , by pressing the switch over 3 seconds .
Powered by 4 pieces quality 18650 rechargeable batteries.
Smart PCB design provides a wonderful energy consumption : The flashlight is able to be powered by one or two or three or four batteries . In another word , the consumption of the battery is very much on average , you can be sure to have a very stable protection for your batteries and the flashlight , and all the batteries are fully used at a very safe protection !
Direct charging design : you can simply insert the AC charger into the flashlight and charge it !
Metal switch design to ensure a longer usage time !
1, Focusing system: Super huge aluminum reflector matching perfectly with the LED reflector cap specially designed for super long range focusing , offering a great brightness, a long range focusing.
2, Radiation structure: The flashlight is installed with a heavy brass IC protector, offering a super cooling radiating, to make sure that the LED doesn't burn after long time using.
3, Outer body design: Using the aircraft-class aluminium that is CNC worked, totally waterproof design.
4,Metal switch design to ensure a longer usage time .